The Glessner Home Page

---
Hello from Western Illinois!
- I live about as far west in the State of Illinois as you can get without falling in the Mississippi River.   My name is Glenn Glessner and I live in Quincy.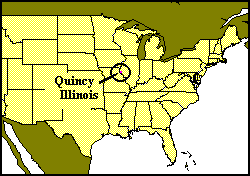 My wife, Lareva, and I were married on November 17, 2007.   We first met each other in September of 2006 and became engaged on January 1, 2007.   Lareva had been a widow for several years.   Her first husband, George Jarrett, passed away on April 20, 1995.   My first wife, Alene, and I lived a happily married life for 53 years.   She passed away on July 18, 2006.
At the present time both Lareva and myself are officially retired.   We both try to keep active around the house, working in the garden and the yard and getting in our daily walks.   In the summer time, I'm a "River Rat", which means I love to get out on the Mighty Mississippi where I'll do some fishing, boating, swimming and canoeing.   I gave up water skiing a few years ago after I sold my power boat.
Although I wasn't born here in Quincy, I have lived in this town for over 60 years and it has become home to me.   I moved from Brookfield, Missouri back in 1957 where I had been a resident for a couple of years.   I was born and raised as a farm kid near Sheldon, Iowa which is way up in the northwest corner of that state.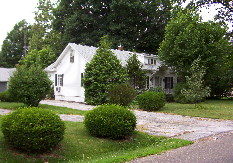 My first wife, Alene, and I had three children.   Our oldest, Connie, is living in Paris, France, having moved there in 1978.   Our second, Linda, passed away on August 19, 2016.   She lived in Quincy and worked for Blessing hospital after having lived in Decatur, Illinois for over 30 years.   Our youngest, David, moved his family from Quincy to Cedar Rapids, Iowa in 1998.   He is employed at Rockwell Collins in Cedar Rapids and has worked there for 20 years.
Alene and I were blessed with the arrival of our first grandchild, Aidan Wayne Glessner, on January 7, 1997.   He was born at Blessing Hospital here in Quincy.   Our second grandchild, Gillian Marie Glessner was born in Cedar Rapids, Iowa on March 2, 2001.   Then, on March 29, 2007, Kieran James Glessner came into this world two months sooner than expected.   More information on them can be found on The Grandchildren's Web Page.
Lareva had four children from her first marriage and three are living in the Quincy area.   She had three sons and one daughter.   Bill Jarrett was born first followed by Brad a little over a year later.   Another year went by and the two brothers acquired a new sister, Beverly.   Five years after Beverly was born, B.J. Jarrett came into this world and he was the last of Lareva's children.   All of her children married and from those marriages, she acquired ten grandchildren over a period of several years.   Of course, when Lareva and I were married, we both acquired each other's grandchildren as our own step-grandchildren.   We both now have a total of 13 grandkids and five great grandchildren!   B.J. Jarrett had a bad motorcycle accident on July 19, 2009.   He died on August 19, 2009 in Blessing Hospital with a severe head injury from that accident.
Other links on this web page provide the current weather and forecast for the Quincy area along with local and regional weather information.   Still others provide some tidbits of information about the area and some of my relatives and past ancestors.

---
If you have any comments and/or suggestions concerning these web pages, please send them to glennglessner@adams.net
---