The Joseph Tobias Glessner Jr. Family
(Picture taken in either 1899 or 1900 at Waterloo, Iowa)
---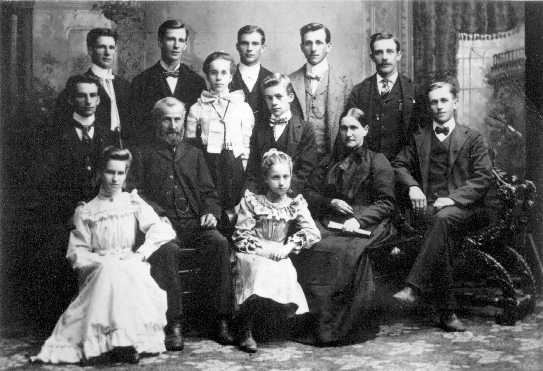 | | | |
| --- | --- | --- |
| Top Row - Left to Right | - - - | Edward - John - Alvin -Obediah - Richard |
| Middle Row - Left to Right | - - - | Russell - Carrie - William - Horace (Greel) |
| Bottom Row - Left to Right | - - - | Nannie and Mary |
The grand patriarch Joseph Tobias Glessner Jr. is seated between Russell and Carrie. His wife Mary is seated between Bill and Greel.

I received the above photo along with a piece of paper indentifying the people in it sometime in 1996. It was sent to me from my sister Marlys in Sheldon, Iowa. I couldn't identify who's handwriting was on that piece of paper, but due to the reference to "Uncle Bill" and this photo being in my family's possession, it appears to be one of Russell's children, quite possibly my father Edgar Glessner. The following statement was on that piece of paper:
"Uncle Bill has told me this picture was taken in Waterloo. Either 1899 or 1900".
See also:
The Joseph T. Glessner Family move from Pennsylvania to Iowa...
| | |
| --- | --- |
| Glenn W. Glessner - Quincy, Illinois | Web Page Updated on February 12, 2001 |
---