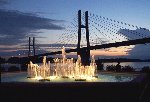 Quincy, Illinois Information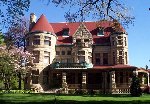 ---
This web page provides information about our home town of Quincy, Illinois.   You will find several links leading to web pages that provide interesting facts, pictures and stories about Quincy.   Some of these links contain information that I've put together and others will lead you to web pages that I've found interesting.   Because some Internet web pages and sites are constantly changing, you may find that a few of these links are no longer valid.   I will attempt to review and update this web page from time to time.

If you know of any other web sites that provide interesting information about Quincy or the Quincy and Adams County area, contact me via email at glennglessner@adams.net and I will consider adding them to this listing.
The Official Quincy, Illinois Web Page...
Interesting Stories, Facts and Other Information about Quincy



A Good Writeup about Quincy, Illinois on Wikipeda...


A Brief History of Quincy

Quincy: Family Home of an Assassin


Colorful Quincy...   (I took these pictures on November 2, 2013)


A Photographic Tour of the "Land of Lincoln" and Quincy, Illinois...   (Lots of excellent photos)





Other Internet Web Sites concerning Quincy and Adams County Illinois



The Quincy Herald Whig Web Page - Up-to-date news for the local area


WGEM-AM/FM/TV Homepage

KHQA Homepage


Quincy Area Chamber of Commerce


Adams County, Illinois Homepage


Quincy (Illinois) High School Alumni Website - Use this link to find old friends and classmates...
| | |
| --- | --- |
| Glenn W. Glessner - Quincy, Illinois | Web Page Created on July 20, 2004 - Updated on December 13, 2017 |
---